CorTrust Bank National Association provides personal and business banking services for communities. It offers checking accounts, credit cards, wire transfers services, online banking services, and phone banking services to individuals and businesses; savings accounts, certificates of deposit, and gift cards to individuals; and cash management, business account risk assessment, and other services to businesses.
Bank Official Website:
• www.cortrustbank.com
Bank Customer Service Telephone:
• 1-888-883-9826
Bank Routing Number:
• 091406930
Bank Swift Number:
• This BANK is not part of the SWIFT network, so there is no number.
Online Banking Mobile Apps:
• iPad
• iPhone
• Android
Branch Locator:
• Branch Finder Link
HOW TO LOGIN
Step 1 – Go to www.cortrustbank.com – At the top right corner of the home page click the "Online Banking" box.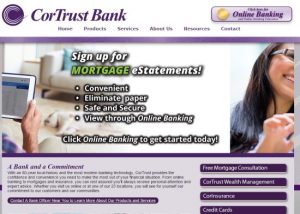 Step 2 – When you click the "Online Banking" box, you will be taken to an online banking page. In the center left of the page, click "Account Login"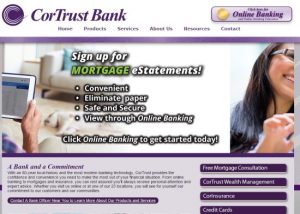 Step 3 – After clicking the "Account Login" link, you will be taken to a secure page where you will enter your Access ID. Enter your Access ID and then select from the drop down box, what area of the web site where you wish to arrive once you've completed your login process. Click "Submit"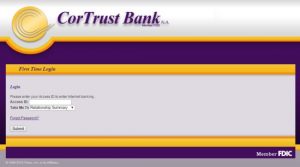 Step 4 – When you submit your Access ID, you'll be guided to a separate secure page where you will enter your password. Click "Submit"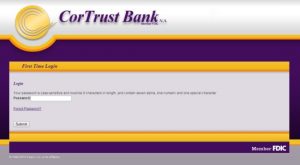 Step 5 – Once you've submitted your online banking login credentials, you will then be directed to your Online Banking page, where you will be able to conduct any of your banking business at your convenience.
Forgotten Password – Should you find that you're unable to recall  your selected password, you may reset your password easily, right online. Go to the "Forgotten Password" page.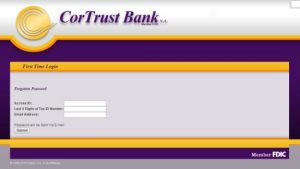 Once you've arrived to the Forgotten Password page, enter the required information and click "Submit" – You will then receive an email from the bank, sent to the email address you have on file with the bank. You will then regain access to your online account and be able to resume your online banking services and activities.
HOW TO ENROLL
Step 1 – When you're prepared to enroll in this bank's online banking services, begin by going to the "First Time Login" page. Enter the required information into the boxes provided. Click "Submit"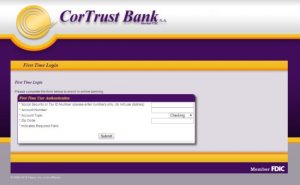 Step 2 – Once you've completed and submitted this page, you will then be guided privately through the remainder of your enrollment process. After you've completed the process, you will then have the ability to login to you Online Banking account and conduct your banking business any time 24/7.