Financial Security Bank offers personal and commercial banking services. The company was founded in 1884 and is based in Kerkhoven, Minnesota. Financial Security Bank operates as a subsidiary of Kerkhoven Bancshares, Inc.
Bank Official Website:
• www.financialsecuritybank.com
Bank Customer Service Telephone:
• (763) 424-5888
Bank Routing Number:
• 091905402
Bank Swift Number:
• This BANK is not part of the SWIFT network, so there is no number.
Online Banking Mobile Apps:
• iPad
• iPhone
Branch Locator:
• Branch Finder Link
Financial Security Bank Online Banking Login
HOW TO LOGIN
Step 1 – Go to www.financialsecuritybank.com – In the middle of the page, in the Online Banking area you will click the "Click here to log in" link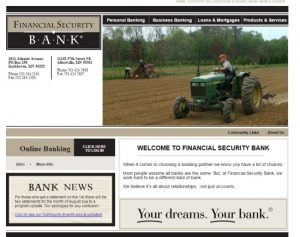 Step 2 – When you reach the next page, you will choose either "Consumer Banking" or "Business Banking" and click the appropriate link for your account. You will then be directed to a login page. If you are already a registered user, click "login" in the "Registered Online Banking User"
Step 3 – You will be taken to the beginning page of your login procedure. Enter your Login ID. You will then need to type the characters into the "Random Code" box and click "Next." From here you will be guided to the next 2 steps of verification to include entering your password. Once you've cleared all of the required layers of your secure login, you will then be taken to your online banking page
HOW TO ENROLL
Step 1 – Go to This page on the web site to enroll in online banking. Enter your Login ID and your Password. Enter the characters into the "Enter Random Code" box, click "Next"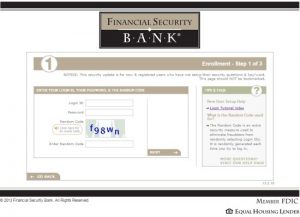 Step 2 – After entering your information and clicking "Next" you will then be prompted privately through the remainder of your enrollment process.
Step 3 – Once you have completed your enrollment, you will then be able to login with your Log in ID and Password, again completing the random code box, you will then be directed to your online account page where you will be able to begin banking online