Bank of Kampsville provides banking services. It offers regular checking, commercial checking, money market checking, NOW checking, and platinum club accounts; regular, tiered, and health savings accounts; and certificates of deposit, IRAs, loans, credit cards, debit cards, and online banking services. The company was founded in 1908 and is based in Kampsville, Illinois with locations in Brussels, Hardin, and Pleasant Hill, Illinois. Bank of Kampsville operates as a subsidiary of Kampsville Bancshares, Inc.
Bank Official Website:
• www.thebankofkampsville.com
Bank Customer Service Telephone:
• 1-(618) 883-2141
Bank Routing Number:
• 081913860
Bank Swift Number:
• This Bank is not part of the SWIFT network, so there is no number.
Online Banking Mobile Apps:
• No Mobile Apps Available.
Branch Locator:
•Branch Finder Link
HOW TO LOGIN
Step 1 – Go to www.thebankofkampsville.com – As you arrive at the home page, click the "Online Banking" link at the top left of the page.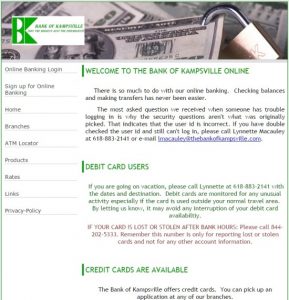 Step 2 – You will reach the "Sign in to Internet Banking" area where you will enter your Username. From there you will be prompted to enter answers to security questions. Click "Login." You will then be directed to your online banking page where you will be able to conduct your banking business.
Forgotten Username – If you are not able to remember your Username, from the login area, click the "Forgot Username link." You will be taken to "Forgot Username" page where you will enter the email address you have on file with the bank. Click "Submit."  Your information will be emailed to you. If you experience any difficulty, call the bank at 1-(618) 883-2141 for further assistance.
How To Enroll
Step 1 – If you're ready to enroll in online banking services, go to This Page – Inside of the page that presents, there is a "Click here to sign up for internet banking" link, click that link. Enter the following information as follows:
Title (Mr. Miss Mrs. etc)
Account holder's first name
Middle name
Last name
Company name
TIN
Social Security Number
Driver's license number
Driver license state
Address
City
State
Zip or Foreign Postal code
Email address
Home phone
Work phone
Other phone (cell if any)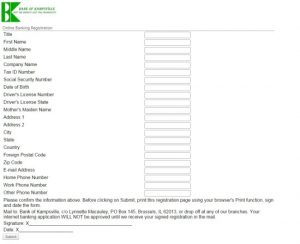 Step 2 – After you've completed the form, print it off, provide your signature and today's date. You must send this application by mail or walk it into a branch as the bank will not approve your application without a hard copy. If you wish to mail this form, send to:
Bank of Kampsville
c/o Lynnette Macauley
PO Box 145
Brussels, IL 62013
As soon as the information is received and processed through the bank branch, you will receive notification that your active. You will then be able to begin accessing and implementing your online banking services.