The Karnes County National Bank of Karnes City is a full-service bank. The bank accepts deposits, makes loans and provides other services for the public.
Bank Official Website:
•  www.kcnb.com
Bank Customer Service Telephone:
•  1- (830) 780-3317
Bank Routing Number:
• 114911234
Bank Swift Number:
• This BANK is not part of the SWIFT network, so there is no number.
Online Banking Mobile Apps:
• Android
Branch Locator:
•Branch Finder Link
 Karnes County National Bank Online Banking LOGIN
How To Login
Step 1 – Go to www.kcnb.com – In the "Online Banking" box at the top right side of the page, click the "Login" button.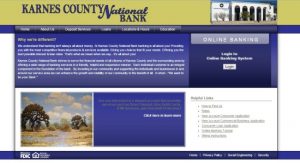 Step 2 – You will be guided to the login page where you will enter your User ID just under the bank picture on the page. Click "Continue." You will then enter your password on a separate page as an added layer of security. Once your password is entered, you will be taken to your online banking page where you will be able to view your accounts online.
Forgotten Password – If you require assistance with online password or User ID reset, you must call the bank customer service line at 1-830-780-3317 for further assistance as there is no self-reset on the web site.
HOW TO ENROLL
Step 1 – If you would like to enroll in online banking, begin by going to This Page – where you will first need to read and agree to the "Personal Enrollment Form Agreement." After you've read the agreement, click "I agree."


Step 2 – When you click "I agree" you will be taken to your "Personal Information" form. Fill in all of the required fields as follows:
Account holder's name
Social Security Number (no dashes or spaces)
Date of birth (mm/dd/yyyy format)
Address
City
State (select from the drop down box)
Zip code
Work phone
Work phone extension (if any)
Email address
Mother's maiden nam
This bank requires a human verification step – type the visible characters into the text box. Click "Submit"
You will then complete the remainder of your enrollment process, privately, through the system.
Once your enrollment is complete, you will be able to access your online bank account and will be able to conduct any banking transactions.