NBT Bank N.A. operates as a full-service bank. The Bank accepts deposits, makes loans, issues credit cards, makes mortgages, and provides trust and investment management services. NBT Bank serves customers throughout United States
Bank Official Website:
• www.nbtbank.com
Bank Customer Service Telephone:
• 1(800) 628-2265
Bank Routing Number:
• 021303618
Bank Swift Number:
•This BANK is not part of the SWIFT network, so there is no number.
Online Banking Mobile Apps:
• iPhone
• Android
Branch Locator:
•Branch Finder Link
HOW TO LOGIN
Step 1 – Begin by navigating your web browser to the NBT Bank Online Home Page. Once you have reached the page, look to the left-hand side of the page and select the drop-down tab below the text "Account Login". In the drop-down tab, select "NBT Online Banker".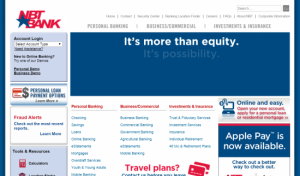 Step 2 – Next, enter your Login ID into the empty text box and click the "Sign In" button.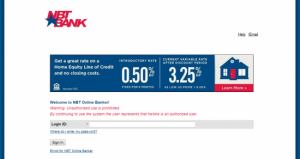 Step 3 – For the next step, answer your challenge question and click the white "Submit" button. If everything has been entered correctly up to this point, you should now be logged into your NBT Online Banking Account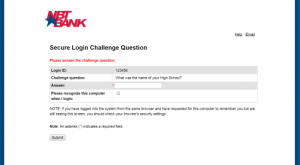 HOW TO REGISTER
Step 1 – Go to the NBT Bank Online Home Page and look to the upper-left hand corner. Click the drop-down menu and select "NBT Online Banker".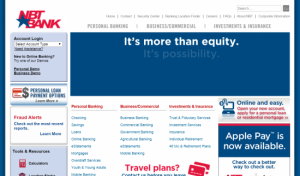 Step 2 – On the next page will be an empty text box and several white buttons. Look to the bottom of the page and click the blue, underlined text that says "Enroll for NBT Online Banker".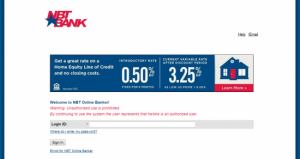 Step 3 – Next, enter your Account Number, select either the Checking, Savings, or Installment Loan option, enter your Social Security Number, and finally click the white "Continue" button. From here on you will need to follow the on-screen instructions displayed by the site to complete the registration of your new Online Banking Account.