1880 Bank is community bank that provides a range of financial products and services to individuals and businesses. Its personal banking products and services include checking accounts; personal savings, money market savings, certificate of deposits (CDs), and individual retirement account/CD; automobile loans, recreational vehicle loans, marine loans, mobile home loans, unsecured loans, overdraft protection lines, home equity lines of credit, and residential mortgages; online and mobile banking services; and E-Statements.
Bank Official Website:
• www.1880bank.com
Bank Customer Service Telephone:
• 410-228-5600
Bank Routing Number:
• 052100466
Bank Swift Number:
•This BANK is not part of the SWIFT network, so there is no number.
Online Banking Mobile Apps:
• iPhone
• Android
Branch Locator:
•Branch Finder Link
HOW TO LOGIN
Step 1 – Go to 1880 Bank's Website, enter your Username and Password on the right side of the homepage, then click Login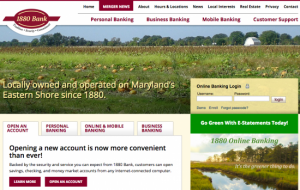 Forgot Username/Password – If you forgot your Password, you're going to have to reset it by clicking the Forgot passcode? link. This will bring you to a page that asks you to provide your Access ID, Tax ID/SSN, and Bank Account #. Input the information and click Submit. If you need to recover your Username, call the bank for assistance (410-228-5600) and inform a representative of your problem. They will then help you through the process of recovering your Username.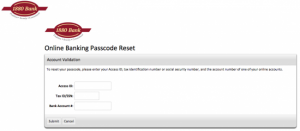 HOW TO ENROLL
Step 1 – Go to the Bank's Enrollment Page and read the Electronic Statement Disclosure. If you agree, then you must check the box and click I Agree.
Step 2 – A box will pop up, click OK if you have an existing account with 1880. They will also provide you with an agreement of the terms and conditions. Read the agreement, check the box if you agree, and click I Agree.
Step 3 – Choose which type of account holder you are by hitting the link that says "click here" next to your choice.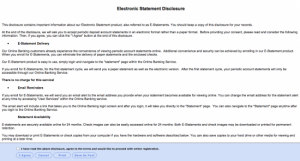 Step 4 – You will then be presented a form that requires personal information about your account. Fill out the form and click Continue.