Old National Bank provides financial and banking services in Indiana, Illinois, Kentucky, and Michigan. It offers personal banking products and services, such as checking accounts, savings accounts and certificates of deposit, account management services, checking-related services, debit cards, direct deposits, and online and mobile banking services; and checking-related services, such as mobile deposits, bill pay, and checks.
Bank Official Website:
• www.oldnational.com
Bank Customer Service Telephone:
• 1(800) 731-2265
Bank Routing Number:
• 086300012
Bank Swift Number:
• This BANK is not part of the SWIFT network, so there is no number.
Online Banking Mobile Apps:
• iPhone
• Android
Branch Locator:
•Branch Finder Link
Old National Bank Online login
HOW TO LOGIN
Step 1 – Customers of Old National Bank who wish to login to their account must access the banks Homepage and find the ´ACCOUNT LOG IN´ at the top left of the page.Users must next enter a ´User ID´ and ´Password´ in the blank fields and then click on ´LOG IN´.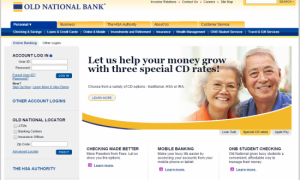 Forgot User ID/Password
Step 1 – If a user can not remember their User ID or Password they must go to  the top left of the home page where under the ´LOG IN´ they will be able to click on ´Forgot User ID´ or ´Password´.
Step 2 – Users are directed to a second page where they will be asked to complete the blank field with their ´Logon ID´.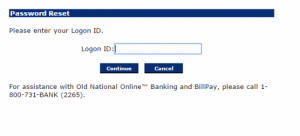 If Users still require assistance they may contact Old National Bank directly by calling 1(800) 731-2265.
HOW TO ENROLL
Step 1 – If account holders with Old National Bank wish to create an online account they must go to the banks homepage and click on the link ´Sign Up Now´ which can be found at the top left of the page below ´LOGIN´.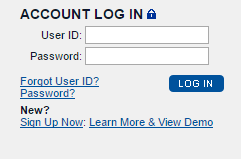 Step 2 – Users are directed to a new page where they must complete the ´Blank Fields´.
Required
ATM/Debit Card Number
PIN Number
Social Security Number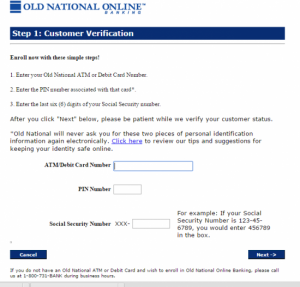 Alternatively if customers do not have a ATM/Debit Card they can contact the bank directly by telephone for further assistance on 1(800) 731-2265