Savings Bank of Mendocino County provides personal and business banking products and services. The company offers checking accounts, savings accounts, debit and credit cards, and overdraft protection; personal loans; and business loans, such as term loans, commercial real estate loans, line of credit for business use and interim short-term financing, rental and investment property lines of credit.
Bank Official Website:
• www.savingsbank.com
Bank Customer Service Telephone:
• 707-462-6613
Bank Routing Number:
• 121104063
Bank Swift Number:
• This BANK is not part of the SWIFT network, so there is no number.
Online Banking Mobile Apps:
• iPhone
• Android
Branch Locator:
•Branch Finder Link
Savings Bank of Mendocino County Online Banking Login
HOW TO LOGIN
Step 1 – Go to www.savingsbank.com – As you arrive at the home page, in the "Personal and Business Online Banking Login" box at the top right side of the page, enter your Access ID and Passcode into their respective boxes. Click "Login"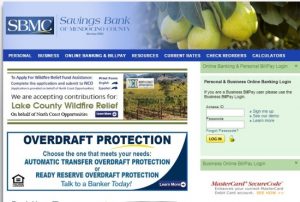 Step 2 – Once you've entered and submitted your login credentials, you will then be directed to your Online Banking page where you will have the capability to conduct any needed banking business.
Forgotten Password – Should you find that you're unable to remember your password, you will require an "Online Banking Passcode Reset." Complete the required fields for authentication purposes. Click "Submit"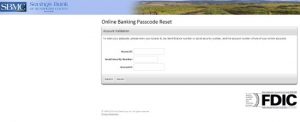 As you submit your information, you will be prompted to complete all security steps privately. Once you've completed your reset, you will again, gain access to your online banking services and may resume your banking activities.
HOW TO ENROLL
Step 1 – If you are ready to enroll in online banking, this bank requires that you first review, acknowledge and agree to the "Electronic Disclosure Consent" before you will be allowed to proceed with the enrollment process. After you've had the opportunity to have read the information contained, you must then click the acknowledgement box and click "I Agree"

Step 2 – The next page will ask you to choose your option for enrollment. Click the appropriate link to the type of account you are enrolling.

Step 3 – When you've selected your account type, you will be taken to the "Online Internet Banking Enrollment Form" where you will begin the enrollment process. Complete all of the information in the fields provided. You will need to complete the human verification aspect at the end of the form, by clicking the box. Click "Continue"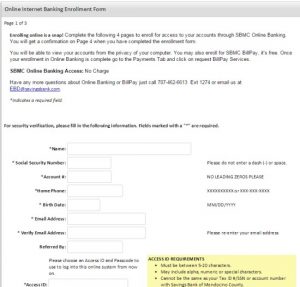 Step 4 – Upon completion of the first of three pages of enrollment, you will be guided through the remainder of the enrollment process, privately. Once completed you will then be able to login to your Online Banking account to review balances, do banking transactions or any other of your banking needs.