The Commercial Savings Bank was acquired by First Federal Bank of the Midwest. The Commercial Savings Bank provides retail and commercial banking services. The company was founded in 1920 and is based in Upper Sandusky, Ohio.
Bank Official Website:
• http://www.csb1.com
Bank Customer Service Telephone:
• 419-294-5781
Bank Routing Number:
• 041206135
Bank Swift Number:
•This BANK is not part of the SWIFT network, so there is no number.
Online Banking Mobile Apps:
• iPhone
• Android
Branch Locator:
•Branch Finder Link
The Commercial & Savings Bank Online Banking Login
HOW TO LOGIN
Step 1 –Go to www.csb1.com – In the "CSB Online Banking" box at the top right of the page, enter your User ID. Click "Submit"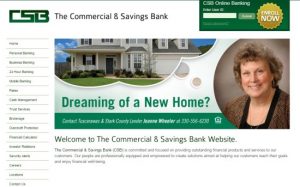 Step 2 – You will then be taken to a secure page where you will first identify the image you had chosen at enrollment. If the image is correct, enter your password. Click "Submit" – If the image is not present or is not your chosen image, do not enter your password, but contact your bank as immediately as possible.

Step 3 – As you successfully enter your login credentials, you will be taken to your Online Banking page where you may proceed to conduct your online banking reviews and transactions.

Forgotten Password – If you find you're unable to recall your password, go to the "Password Page Self Reset" – Enter the required information, click "Continue" and follow the remainder of your prompts, privately. Once you achieve your password reset, you'll regain access to your Online Banking account.

HOW TO ENROLL
Step 1 – When you're prepared to enroll in online banking services, you will need to begin by reading and agreeing to the Online Banking Agreement. As you complete your review of the agreement, click "I Agree," and you will then be allowed to proceed to the next step of your enrollment process.

Step 2 – As you proceed to the "Verification Information" section, you will enter the information required. Enter "Continue"
Step 3 – From here, all information required will be your private information. Follow the prompts to the completion of your enrollment. Once completed you will have full access to your Online Banking account and will be able to do your banking business any time, day or night and on any day of the year.