American Midwest Bank provides financial services. The Bank offers checking accounts, credit and debit cards, loans, insurance, payment protection, phone banking, bill pay, and merchant services. American Midwest Bank operates in the United States.
Bank Official Website:
• www.hbtbank.com
Bank Customer Service Telephone:
• 1 (800) 200-6344
Bank Routing Number:
•  071112066
Bank Swift Number:
• FMIDUS44
Online Banking Mobile Apps:
• iPhone
• Android
• iPad
Branch Locator:
•Branch Finder Link
HOW TO LOG IN 
Step 1 – To log in to an online account the user must go to the bank´s Homepage and look for ´Customer Login´ at the top right of the page and then click on that link.

Step 2 – On the next page the user will be required to enter their ´Banking ID´ into the blank field and then click ´Submit´.

Forgotten User ID/Password
Step 1 – If users can not remember their login details they can contact the bank by telephone calling 1 (800) 200-6344 or by visiting their ´Local Branch´.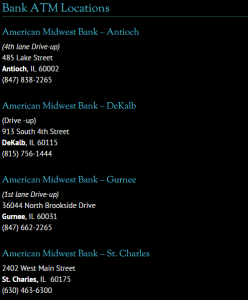 HOW TO ENROLL
Step 1 – To start banking online with American Midwest Bank the user will need to go to the bank´s homepage and click on the link ´Enroll Now´ at the top right side of the page.

Step 2 – Users are directed to the bank´s terms and conditions where they must scroll down and click ´I Agree´ to continue.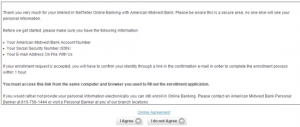 Step 3 – The user now needs to enter their ´Social Security Number´, ´Account Number´ and ´Email Address´´  and then click ´Continue´.