As of June 24, 2005 The Bank of Bolivar was acquired by CB&S Bank, Inc. The Bank of Bolivar ffers personal and business banking services. The bank provides deposit products such as electronic funds transfer systems, account reconcilement, payroll direct deposit, and savings and checking accounts. It also offers loans, online banking, cash management, business card processing, mortgage, and estate settlement services. The bank was founded in 1887 and is based in Bolivar, Tennessee.
Bank Official Website:
• www.bankofbolivarmo.com
Bank Customer Service Telephone:
•  1.417.759.6500
Bank Routing Number:
• 086507187
Bank Swift Number:
•This BANK is not part of the SWIFT network, so there is no number.
Online Banking Mobile Apps:
Branch Locator:
•Branch Finder Link
HOW TO LOGIN
Step 1 – Go to www.bankofbolivarmo.com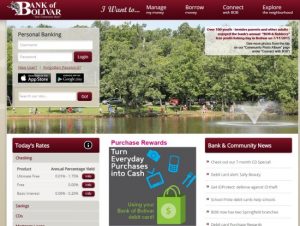 – At the top left of the home page in the "Personal Banking" box, enter your Username and Password. Click the "Login" button
Step 2 – After you have entered your login credentials and clicked "Login" you will be taken to your personal online banking page where you will be able to review and monitor your accounts and conduct transactions if needed
Forgotten Password – If you are unable to recall the password that you've been using, from the Online Banking box on the home page, click the "Forgotten Password" link. When you get to the "Can't access your account?" page, simply provide the phone number you have on file with the bank. In the next field enter your username and click "Send me a new password." You will be sent a new password by text or to the email address you have on file with the bank. You may change the password if you wish.
HOW TO REGISTER
Step 1 – If you are a new user to this bank's online services you will need to register in order to have access to your Online Banking account. Begin by going to This Page and clicking the "Begin" button.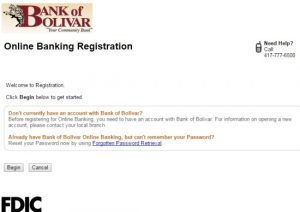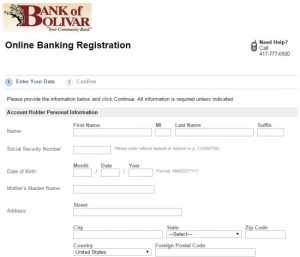 Step 2 – You will be directed to your "Account Holder Personal Information" page and provide the following information:
First name
Middle initial
Last name
Account holder's Social Security Number
Date of birth (mm/dd/yyyy format)
Mother's maiden name
Address
City
State (select from drop down box)
Zip code
Country (select from drop down box)
Foreign postal code (if any)
Phone numbers
Home phone
Work phone
Other (ie; cell phone)
Email address
Username and Password
Select and enter a Username
Select and enter a Password
Re-enter your password
Secondary Account Holder
Title (select from drop down box)
First name
Middle initial
Last name
Social Security Number
Account Information
Enter the Account Type (select from drop down box) and Account number to each account you wish to review and transact with your online banking services
Bill Payment – Click the box if you would like to enroll in online bill payment
Disclosure
In order to acquire an online account you must click the Terms and Conditions link, review and acknowledge that you have read it, by clicking the acknowledgement box before the statement
Click Continue
From here you will be guided privately through any remaining security procedures required. Once your enrollment is complete, you will be able to login and begin doing your banking business from your online banking account