Bank of Winona provides various banking products and services for businesses and individuals in Montgomery and Carroll County. Its products and services include Internet banking; personal accounts, including student checking, regular checking, NOW accounts, super NOW accounts, and money market deposit accounts; golden and silver savings; certificate of deposit; loans, such as real estate, mortgage, commercial, agricultural, consumer.
Bank Official Website:
• www.bankofwinona.com
Bank Customer Service Telephone:
• 1-662-283-3231
Bank Routing Number:
• 084201524
Bank Swift Number:
• This BANK is not part of the SWIFT network, so there is no number.
Online Banking Mobile Apps:
• iPad
• iPhone
• Android
Branch Locator:
•Branch Finder Link
HOW TO LOGIN
Step 1 – Go to www.bankofwinona.com – When you reach the home page, inside of the "Internet Banking" box on the top right side of the home page, from the drop down box, select what area of the web site you would like to arrive to once login is complete. Enter your Username. Click "Login"

Step 2 – After entering and submitting your Username, you will be guided to a separate secure page to enter your password. Enter your password and click "Submit"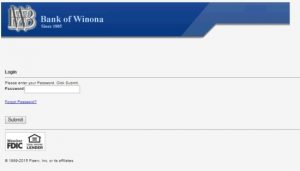 Step 3 – When you have properly entered your login credentials, you will then be taken to your Online Banking page where you will be able to conduct any needed banking business.
Forgotten Password – If you fail to recall your Password, it's likely you will require a password reset. Go to the "Forgotten Password" page.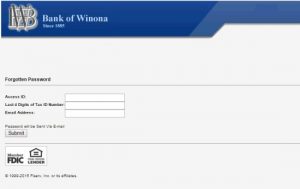 When you've entered the password reset page, complete the required fields and click "Submit." The system will verify your information and send you an email with your password, to the email address you have on file with  the bank. Once received, you will regain access to your account and will be able to resume any banking activities.
HOW TO ENROLL
Step 1 – If you're prepared to enroll with online banking services, this bank will first require that you review and agree to the"Internet Banking Agreement." Review the terms. If you agree with the terms, click "I Agree" at the end of the agreement.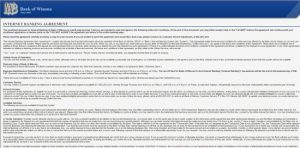 Step 2 – After you've agreed to the terms of the agreement and clicked the agreement button, you will then be guided to the "First Time Login" page. Complete all of the information required on the form. Click "Submit"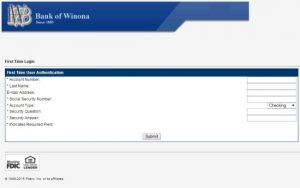 Step 3 – Once you've submitted this information you may be prompted to complete further security steps for your account. Once you complete your enrollment, you will be able to login and begin conducting any banking business you need to complete.