BANK VI provides personal and business banking services in central Kansas. Its personal banking services include checking accounts, savings and money market accounts, certificates of deposit and IRAs, and personal loans; and business banking services comprise business loans, SBA loans, business lines of credit, business letters of credit, certificates of deposit, ACH origination services, positive pay service, lockbox services, electronic statements, account management, business credit cards, and merchant credit card processing, as well as loans and mortgages.
Bank Official Website:
• www.banksix.com
Bank Customer Service Telephone:
• 785 825-4321
Bank Routing Number:
• 101105419
Bank Swift Number:
• This BANK is not part of the SWIFT network, so there is no number.
Online Banking Mobile Apps:
• iPhone
• iPad
• Android
Branch Locator:
• Branch Finder Link
HOW TO LOGIN
Step 1 – Go to www.banksix.com  – In the left center of the page inside of the "Internet Banking Login" box, click the "Banking Login" link. You will be taken to the first page of your login process. Identify your chosen image. If it's correct, enter your NetTeller ID. Click "Submit"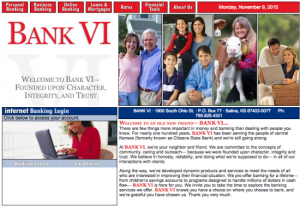 Step 2 – Once you've submitted your ID, you will be taken to a separate secure page where you must identify your chosen image. If the image present is correct, enter your PIN. If the image is not present or if it's incorrect, do not enter your PIN, but contact your bank as soon as possible so that they may assist in resetting your information. If it is, in fact, correct, you will be directed to your Online Banking page where you will be able to conduct any desired banking business.
Forgotten Password (PIN) – If you find that you are unable to recall your PIN, you must contact the banking center by telephone or walk into the banking center for further assistance with a reset of your PIN. Once the PIN has been reset you will regain access to your Online Banking account. You may login and resume your banking activities.
HOW TO ENROLL
Step 1 – If you're prepared to enroll in Online Banking you must begin by printing, completing and signing the "Enrollment Form." and either mailing or walking it into the bank for complete enrollment assistance.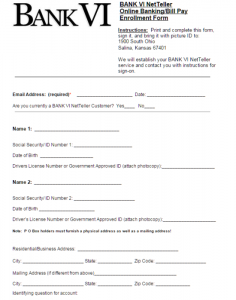 Step 2 – Once you've provided this enrollment information to your banking center, the bank will establish your NetTeller service and contact you as soon as possible with the instructions required to login to your account. After you've been contacted with initial instructions you will be able to login and begin conducting your banking business 24 hours per day at your convenience.