BankUnited, Inc. operates as the bank holding company for BankUnited, National Association that provides a range of banking services to small and medium sized businesses, and individual and corporate customers in the United States. The company offers deposit products, such as checking, money market deposit, and savings accounts, as well as certificates of deposit; and treasury management services.
Bank Official Website:
• www.bankunited.com
Bank Customer Service Telephone:
• 1-877-779-2265
Bank Routing Number:
• 267090594
Bank Swift Number:
• BUFBUS3MXXX
Online Banking Mobile Apps:
• iPhone
• iPad
• Android
Branch Locator:
• Branch Finder Link
HOW TO LOGIN
Step 1 – Go to www.bankunited.com – In the left center of the home page, in the "View Your Account" page, from the drop down box, select what account you would like to arrive to, once you're logged in. Click "Login"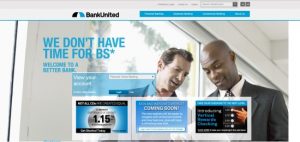 Step 2 – Once logged in you will arrive at a login page. Enter your Username and Password. Click "Login"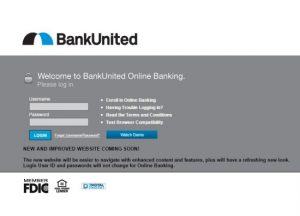 Step 3 – After you've successfully logged in, you will be directed to your Online Banking account page where you will be able to review your account information and conduct any needed transactions.
Forgotten Password – If you fail to remember your password or username information, go to the Access Account Page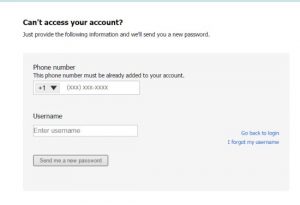 Enter the required security information. You will receive your information at the email address you have on file with the bank. When you login again, you will regain access to your account.
HOW TO ENROLL
Step 1 – Should you be prepared to enroll in online banking, go to the Enrollment Page. Click "Begin"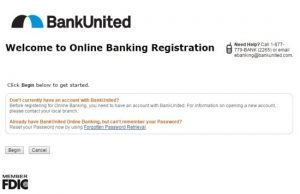 Step 2 – When you begin the enrollment process, you will be taken to an enrollment form. Complete all of the information required within the enrollment form to include reviewing the link of Terms and Conditions. Be advised that as you continue into your enrollment process, you will be agreeing to the bank's terms.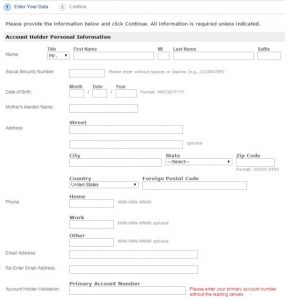 Step 3 – You will be prompted to complete the remainder of the enrollment process, privately. Once completed, you will be able to login to your account any time 24 hours per day to conduct your banking business.