Ben Franklin Bank of Illinois is a full-service bank. The bank accepts deposits, makes loans and provides other services for the public.
Bank Official Website:
• www.benfrankbank.com
Bank Customer Service Telephone:
• 1-(847) 394-0600
Bank Routing Number:
• 271970079
Bank Swift Number:
• This BANK is not part of the SWIFT network, so there is no number.
Online Banking Mobile Apps:
• No Mobile Apps Available
Branch Locator:
• Branch Finder Link
Ben Franklin Bank of Illinois Online Banking Login
HOW TO LOGIN
Step 1 – Go to www.benfrankbank.com – On the upper left side of the home page, inside of the "Personal Internet Banking" box, enter your User ID. Click "Login"
Step 2 – After you've submitted your User ID you will be taken to a secure password page. Enter your password. Click "Submit"

Step 3 – Once you have successfully entered your login information, you will be taken to your Online Banking page where you may proceed with your banking business.
Forgotten Password – If you're unable to to remember your password go to this "Forgotten Password" page. Enter all of the required information. Click "Submit"
Once you've submitted your information, you shall receive an email from the system, containing your password. This email will only be sent to the email address you've provided to the bank. You will then regain your account and may then continue on with your online banking activities.
HOW TO ENROLL
Step 1 – If you've decided you are ready to enroll in online banking services, begin by going to the "First Time Login" page. Enter the required information. Click the "Terms and Conditions" link, review and agree to the terms. Click "Submit"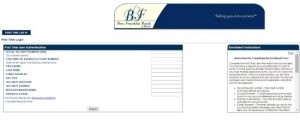 Step 2 – From here you will be prompted privately to complete the final steps of enrollment. Once you've completed your enrollment process, you will then gain access to your Online Banking services and will be able to move forward with 24 hour service with your online banking account.