Community Trust Bank, Inc. provides personal and business banking products and services in Kentucky, West Virginia, and Tennessee. Its personal banking products and services include personal checking, interest checking, and savings and money market accounts, as well as CDs and IRAs, card services, online services, mobile banking, consumer loans, credit insurance, mortgages, and home equity lines.
Bank Official Website:
• www.ctbi.com
Bank Customer Service Telephone:
• 18002827762
Bank Routing Number:
• 111102758
Bank Swift Number:
• This BANK is not part of the SWIFT network, so there is no number.
Online Banking Mobile Apps:
• iPad
• iPhone
• Android
Branch Locator:
• Branch Finder Link
HOW TO LOG IN
Step 1 – Users of Online banking must go to the bank´s Homepage and find the ´Log In´ facility at the right side of the page.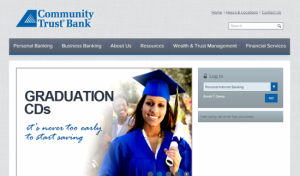 Step 2 – Next users mush choose the type of banking they wish to log in to from the drop down menu then click on ´GO´.
Step 3 – Users are then directed to a new page where they must complete the field required for ´User ID´ then click on ´Continue´.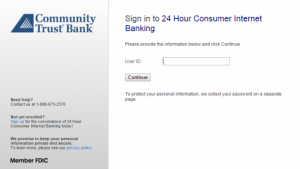 Forgot User ID/ Password If a user has forgotten their User ID or Password they can contact the Community Trust Bank Customer Service Center by dialing 18002827762 or they can visit their local branch.
HOW TO ENROLL
To start banking online with Community Trust Bank users must enroll. This can be done by going to the banks homepage and clicking on ´Enroll´ at the right side of the page just below the Login feature. Users will be directed to a second page where they will be asked to select the type of account they wish to register online. Next they must check the box which verifies the user understands the Terms and Conditions. After this users must click ´CONTINUE´ at the bottom of the page.
Users will be directed to a final page will will require the completion of the relevant fields with the users personal information. Fields requiring completion are name, social security number, email, last 4 digits of card number and PIN.