Dakota Heritage Bank of North Dakota offers personal and commercial banking services. The bank was founded in 1945 and is based in Hunter, North Dakota. Dakota Heritage Bank of North Dakota operates as a subsidiary of Hunter Holding Company.
Bank Official Website:
• onlinebanking.dhbanknd.com
Bank Customer Service Telephone:
•  1- (701) 874-2161
Bank Routing Number:
• 091302872
Bank Swift Number:
• This BANK is not part of the SWIFT network, so there is no number.
Online Banking Mobile Apps:
• iPad
• iPhone
• Android
Branch Locator:
• Branch Finder Link
HOW TO LOGIN
Step 1 – Go to onlinebanking.dhbanknd.com – Under the "Online Banking" location on the home page, click the "Login" link. This will take you to the login page where you will enter your User ID.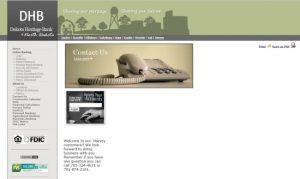 Step 2 – Once you've entered your User ID and clicked login, you will be directed to the next step of your secure login, where you will identify a site key image that you have chosen, and have the opportunity to enter your password. After you've entered your password, you'll be guided to your personal Online Banking account where you will be able to conduct your banking business.
Forgotten Password – If you find that you're unable to remember your password, the only way to reset your password, for your security, is to call the bank at 1-(701) 874-2161 and speak with a representative. They will reset your password for you.
HOW TO ENROLL
Step 1 – If you're prepared to enroll in online banking services begin by going to This Page – Begin by entering the following required information:
Your full name
Check the box if your address is an international address
Enter your address
City
Select the state you live in from the drop down box
Zip Code (Postal code if outside of the US)
Phone
Home phone
Mobile (cell) phone
Work phone
Email address
Social Security Number or TIN (no spaces or dashes)
Date of birth (mm/dd/yyyy format)
Mother's maiden name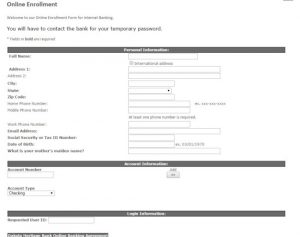 Account Information
Account number (click the add arrows each time you add a new account number)
Account number ( select from the drop down box)
Login Information
Requested User ID (enter into the field provided
Dakota Heritage Bank Online Banking Agreement
In order to acquire an online account with this bank, you must review and agree to the terms of the agreement.
Review the entire agreement. Once you're finished, click the acknowledgement agreement
Click "Submit"
From here you will be guided privately through the remaining enrollment procedure. Once you've completed the enrollment, you will then have access to your Online Banking account, where you will be able to review and complete banking transactions. *Note – When you confirm your account in email, you must be on the same computer in which you enrolled your information*