1st Colonial Community Bank provides banking products and services to consumers and businesses. It offers personal banking products and services, such as personal checking and savings accounts; consumer loans, including home equity loans, home equity lines of credit, car loans, personal loans, and more; residential mortgages; online, mobile, and telephone banking services; check cards; and additional services, such as wire transfers, safe deposit boxes, and more.
Bank Official Website:
• www.1stcolonial.com
Bank Customer Service Telephone:
• 856-858-1100
Bank Routing Number:
• 031207869
Bank Swift Number:
•This BANK is not part of the SWIFT network, so there is no number.
Online Banking Mobile Apps:
• iPhone
• Android
Branch Locator:
•Branch Finder Link
1st Colonial Community Bank Online Banking Login
HOW TO LOGIN
Step 1 – Visit 1st Colonial Community Bank's Website and input your User ID, then click Login.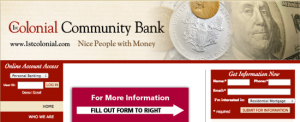 Forgot User ID/Password – You must contact 1st Colonial's Customer Service Department (856-858-8183) and notify a representative that you have forgotten your User ID or Password. The representative will then guide you through the process of recovering either your User ID or Password.
HOW TO ENROLL
Step 1 – To get to 1st Colonial Community Bank's Enrollment Page, you must click the Enroll link on the homepage. You will then be transferred to a page that supplies a form that needs to be filled out with personal information about your account. This information includes:
First and Last Name
Address
City, State, Zip Code
Country Code
Tax ID Number/SSN
Phone Number
Email Address
Complete the form and click Proceed.